| | | |
| --- | --- | --- |
| Announcement date | Rollout starts | Rollout finishes |
| October 31st, 2022 | October 31st, 2022 | January 31st, 2022 |
What is changing?
On January 31st the legacy Project Portfolio Report will be removed and replaced with the updated standard Project Portfolio Report.
Enjoy a 4x faster loading time and layout that's easier to navigate. You can create and save your own versions of the report by grouping on connected projects, selecting date ranges and highlighting the metrics that matter to you.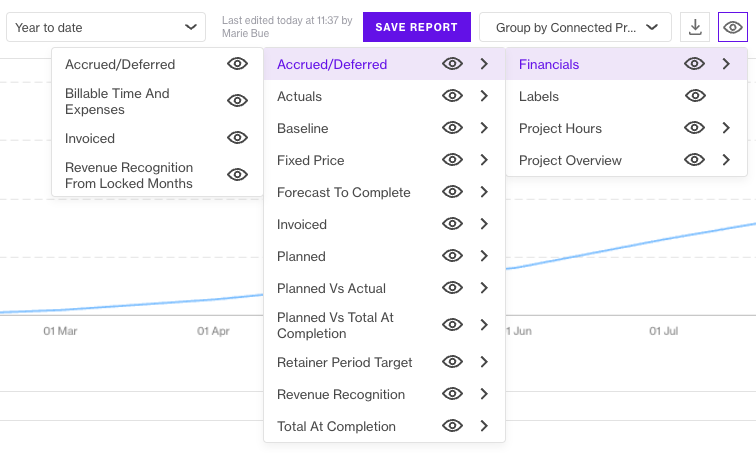 What's included in the updated Project Portfolio Report?
You'll find all of your current data, fields, filters and more in the updated report. Create the versions of the report you need by filtering the metrics that matter for your team. You can group by connected projects and report on recognized revenue. Update the date range with a single click and get a visual representation of your finances. The report loads 4x faster and has a more intuitive layout, making it easier to work with.
Use filters and fields to highlight the metrics that matter to you and your stakeholders. With a simplified overview, you can easily build new reports to show, for example, revenue recognized across projects and the forecasted revenue of your running projects.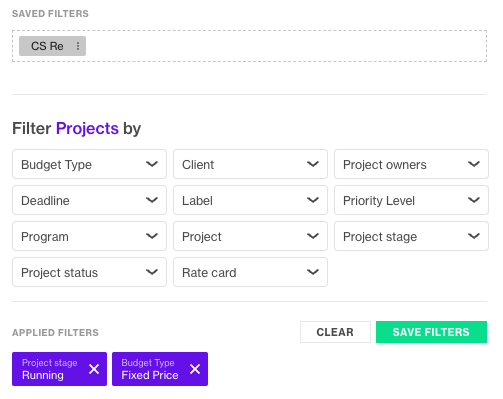 Use the quick date picker to update your report with a single click. Select 'All Time' to get your financial totals without narrowing down a specific date range.

Date range selection:
All time
Current month
Current year
Custom range
Previous month
Previous year
Year to date
Graph selection:
Actual Billable Time and expenses spent to date
Actual Cost
Actual Profit
Forecast Billable Time and expenses to complete
Forecast Cost To Complete
Forecast Profit To Complete
Planned Billable Time
Planned Cost
Planned Profit
Total Billable Time at completion
Create a new Project Portfolio Report
Why Forecast is deprecating the legacy Project Portfolio Report
This is a continuation of significantly improving your out-of-the-box reporting. The first update was with the first update rolled out on August 10th. With the added ability to group by connected projects, your updated Project Portfolio Report outperforms the legacy report, which will be depreciated on January 31st.
All the updated reports have been built to meet our customers' reporting needs. Use them out of the box or create and save the variants you and your team needs. The updated reports have been made easier to navigate and load 4x faster. This was made possible by rewriting the code they were built on and testing them extensively during the beta phase.
What do I need to do?
To prepare, we recommend you check out the updated Project Portfolio Report while you have access to both. You don't have to migrate any data; it's already available in the updated report.