In an effort to continuously improve your experience with Forecast, we're upgrading our support services tools and processes. This article covers the enhancements happening over the coming months and how this positively impacts your Forecast experience.
| | |
| --- | --- |
| Announced on | Roll-out date |
| February 14, 2022 | May 2, 2022 |
Why are we making these changes?
We want to continue offering high quality and scalable support as we continue to grow as a business.
We're driven to provide an all-in-one Customer Portal, with all the resources you need, right at your fingertips.
We're upgrading our processes and service level agreements to offer fast and top-notch 'follow-the-sun '24/7' support.
Updates to your Support Offering

A new Support system
We have begun the transition of the existing support tool to a new support ticketing system. With that, we will be retiring our current in-app Support widget and our old self-service platforms gradually until June 2022. All the new methods of contact will be rolled out on May 2, 2022 so you have time to get acquainted with the system.
Customers can continue to reach out to Support by emailing support@forecast.app as this remains unchanged.
Updates to the in-app chat widget
The existing in-app chat will be replaced with a brand new widget tool on May 2, 2022. Users with the Forecast Administrator permission profile will be able to message the Support team and find Help Center resources from this new in-app widget.
Upgraded Forecast Help Center
We're migrating the existing Help Center documentation to our new Support system provider which will be hosted at support.forecast.app. Throughout this process we are reviewing and revamping our documentation, so you and your users can find all the resources you need thanks to our new knowledge base articles, frequently asked questions and product announcements.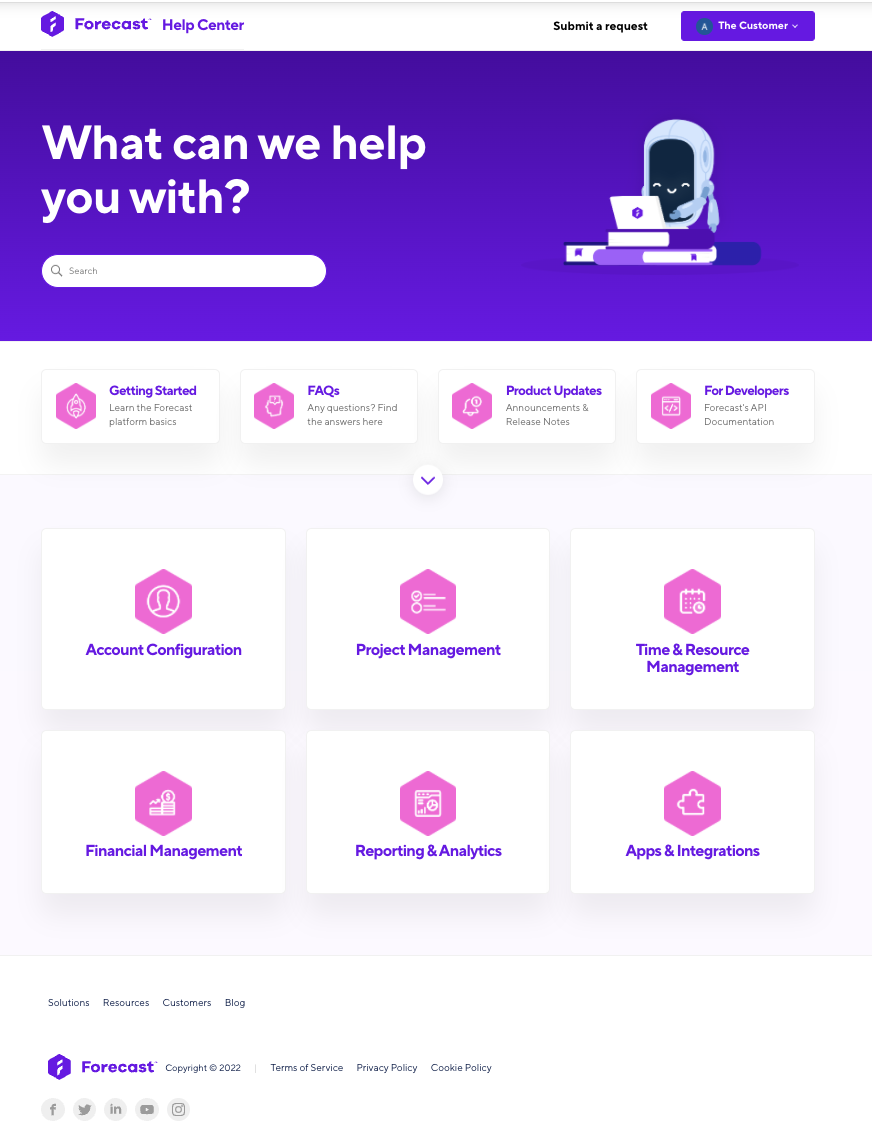 New Customer Center
All Forecast users will have access to their own online ticket management system to submit and review the status of their requests. In addition it is now possible to update your requests, keep your profile up to date and manage your content subscriptions in the Customer Center
The Customer Center is hosted within the Help Center at support.forecast.app, and you can sign-up or login with the email address used to contact Support.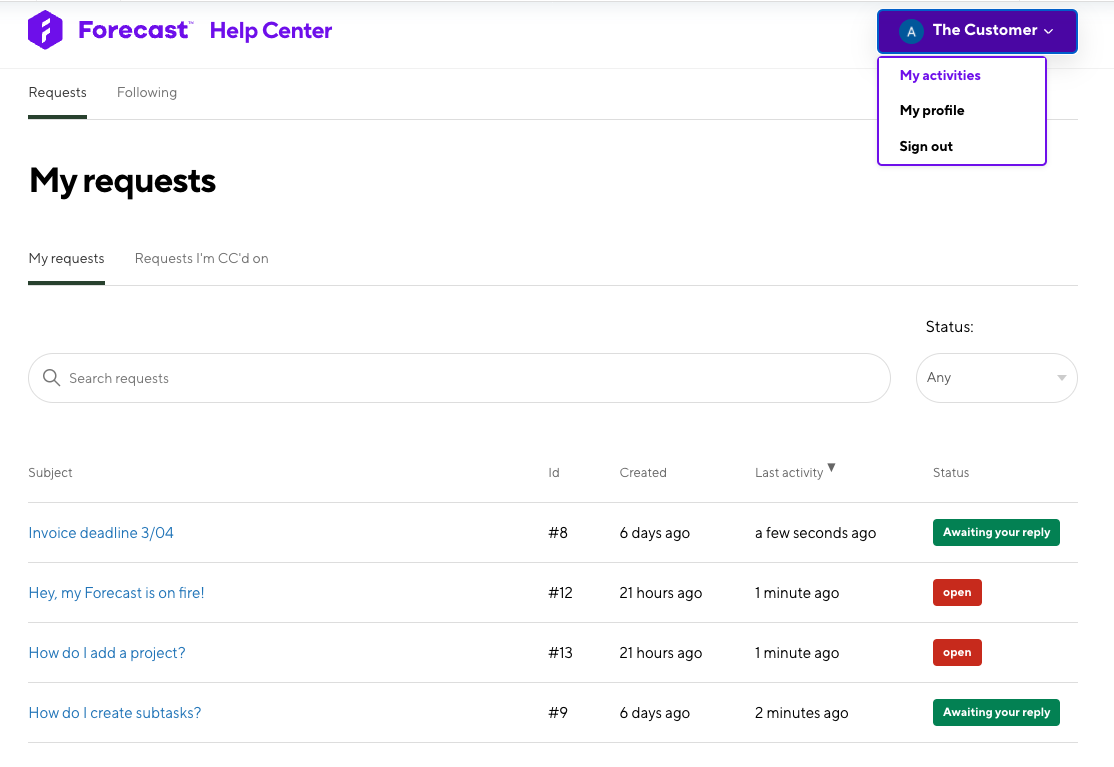 Ticket Severities
With the new system, you have the ability to choose the severity of your ticket based on the urgency of your request, when submitting a ticket from the in-app widget or through the online form within Customer Center. It is important to be familiar with different definitions of severity and what they entail, as they help the Forecast Support team to work through your requests efficiently. Please see Overview of Ticket Severities to learn more about the Severity levels.
Questions and Answers from Forecast Support
What happens to my existing support requests?
The Support team will be working on your request within our existing system until the roll-out date. If your request is still opened on May 2, 2022 the Support Analyst will reach out to you through the new ticketing system and continue the conversation from there.
How do I login to the Customer Center?
You can either create a new user account if you haven't contacted support after May 2, 2022 or you can request a password reset with the email address used to contact Support within the new ticketing system.
To login to the Customer Center:
Head to support.forecast.app
Click on Sign in
Here choose whether to login, request a password reset or create a new user.
How do I update an existing ticket?
It is possible to update an existing ticket by logging in the Customer Center or via email.
- To update via email
Ticket updates are usually sent to the requester via email, which can be replied to from within your email inbox.
If you cannot locate the email from Forecast Support and you remember the ticket ID, you can update an existing ticket with a comment by email. The email must reference the ticket id at the top of the body of the email:
In your email client, create a new email to support@forecast.app.
At the top of the body of the email, enter the ticket ID using the following syntax
#id ticketnumber.
Leave one blank line after the ticket ID (see screenshot below).
Enter the comment to add to the ticket after the blank line.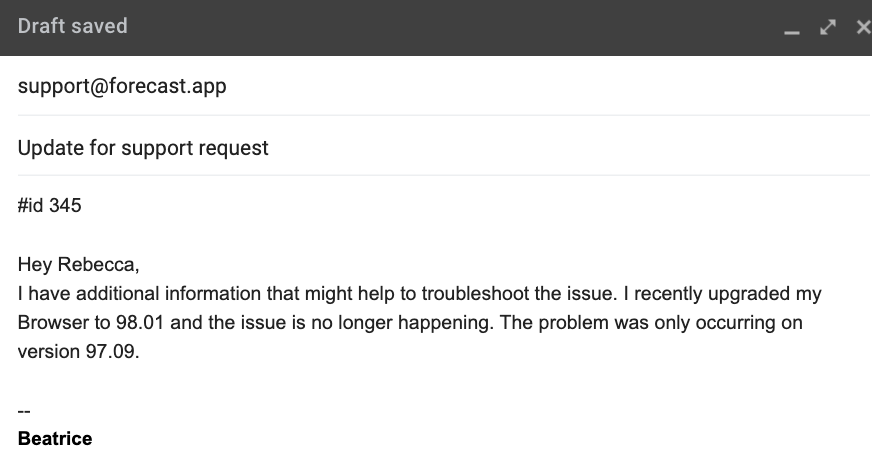 - To update through the Customer Center
You can access and review all your existing tickets and update them by logging into the Help Center with the email you used to contact Support. Note that this option will only be available from May 2, 2022:
Head to support.forecast.app
Click on Sign in button.
Login with your email and password. If you don't have yet a verified user, click on Forgot Password and do a password reset with the email used to contact Forecast Support.
Once logged in, click on your profile icon on the upper-right side of the page.
Click on My activities.
Click on the request you want to update.
Add a comment to update the request.
Click Submit.
Who will be able to use the in-app messaging widget?
Yes, going forward the widget will only be visible to administrators. All the other users will still be able to reach out to Forecast Support via email or through the Help Center webform.
My request is now resolved, how do I close it?
You can withdraw or mark a request as resolved from your Customer Center, once the request is actually assigned to one of our Support Analysts.
To mark the ticket as resolved
Click on your profile icon.
Select My activities from the dropdown menu.
Open the relevant ticket.
Select the option on the lower side of the request to mark it as solved.
Note: the request must be assigned to a Support Analyst for this option to appear.
Enter any comment in the reply box and click Add Reply.
How do I update my profile?
Users can update their profile within the Forecast Support ticketing system within the Customer Center.
To update your profile
Click on your profile icon on the top right of the page.
From the dropdown menu select My profile.
Click Edit Profile.
In the Profile pop-up, you can now edit your information. These will be reflected in our system when you reach out to Support.
I am unable to find a particular article, where is it?
We have performed an extensive review of the Help Center documentation and decided to create new knowledge base articles to provide you with the best and detailed information about Forecast. It will not be possible to do a one-to-one match for every legacy article, therefore we recommend exploring the new self-service platform and get acquainted with the new articles in there.
If you have any particular article request, please contact support@forecast.app.
What's the Follow button for in the Help Center?
Users have the option to follow a particular content section, if they are interested in getting an email notification any time new articles are added to it. Whenever you click 'Follow', a subscription is created for that section, which can be managed from within your Customer Center.
To manage your subscription
Click on your profile icon, after you logged in.
Select My activities from the dropdown menu.
Click on the Following tab at the top of the page.
Make any changes to your subscription from here.