Points are a relative measure of user story size and effort. Forecast's Story Points system is an ideal alternative for time estimations, especially for Agile teams. The Story Points can assist you by taking some work off of your hands and automatically calculate the performance of your team in your sprints based on the time registration you and your team have registered. This guide will show you step by step how to enable and use Forecast's Story Points.
This article covers in particular:
Enabling Story Points
To start using a Story Points system, the Project Owner or an Administrator needs to enable the functionality within the Project settings. To configure the Story points it is requested to set the ratio of hour(s) per story point. This is your expected performance. It is crucial that you set it to the number of hours that you and your team expect for the project that you are currently working on. This number defines how much time you expect your team to take to complete one story point.
To enable Story Points
Click on Projects from the top bar.
Select All Projects from the dropdown.
Select your project.
In the left side panel, select Settings.
Click on the Tasks.
Under Estimation Units select 'Points'.
Set how many hours per Story Point to finalize.
Using Story Points in tasks
After Story Points are enabled and the expected performance (hours per story point) is set, it is possible to start using Story Points in tasks across your projects.
Whenever a Sprint is created and tasks are moved or created within each sprint, the system provides the option to put an estimate of points that expected for the task to require.
Example:
In this scenario we need to set an estimate of points for a task assigned to a Designer. The Designer is tasked to create a logo for the Client's website and by experience we know this might take around 12 hours.
The Hours per story point configured within this project' settings is equal to 1h.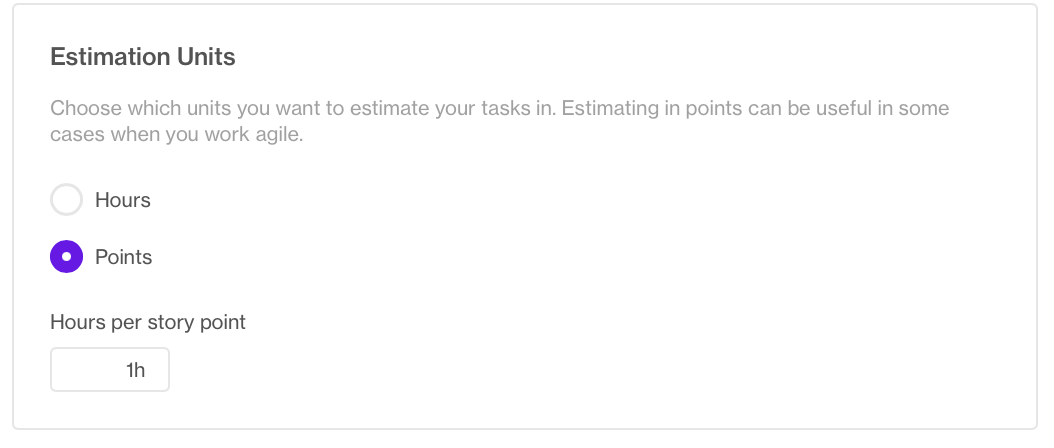 Knowing that 1 point = 1 hour, we will give a point estimate of 12 hours to this task.
The Designer can now start working on the task and progresses throughout the sprint.
Performance assessment and system suggestions
Depending on the amount of time registration and the estimation of points that have been given to each task you will be prompted a button to Update the Performance, once all tasks are marked as Done and the Sprint has passed its last day (date range on sprint).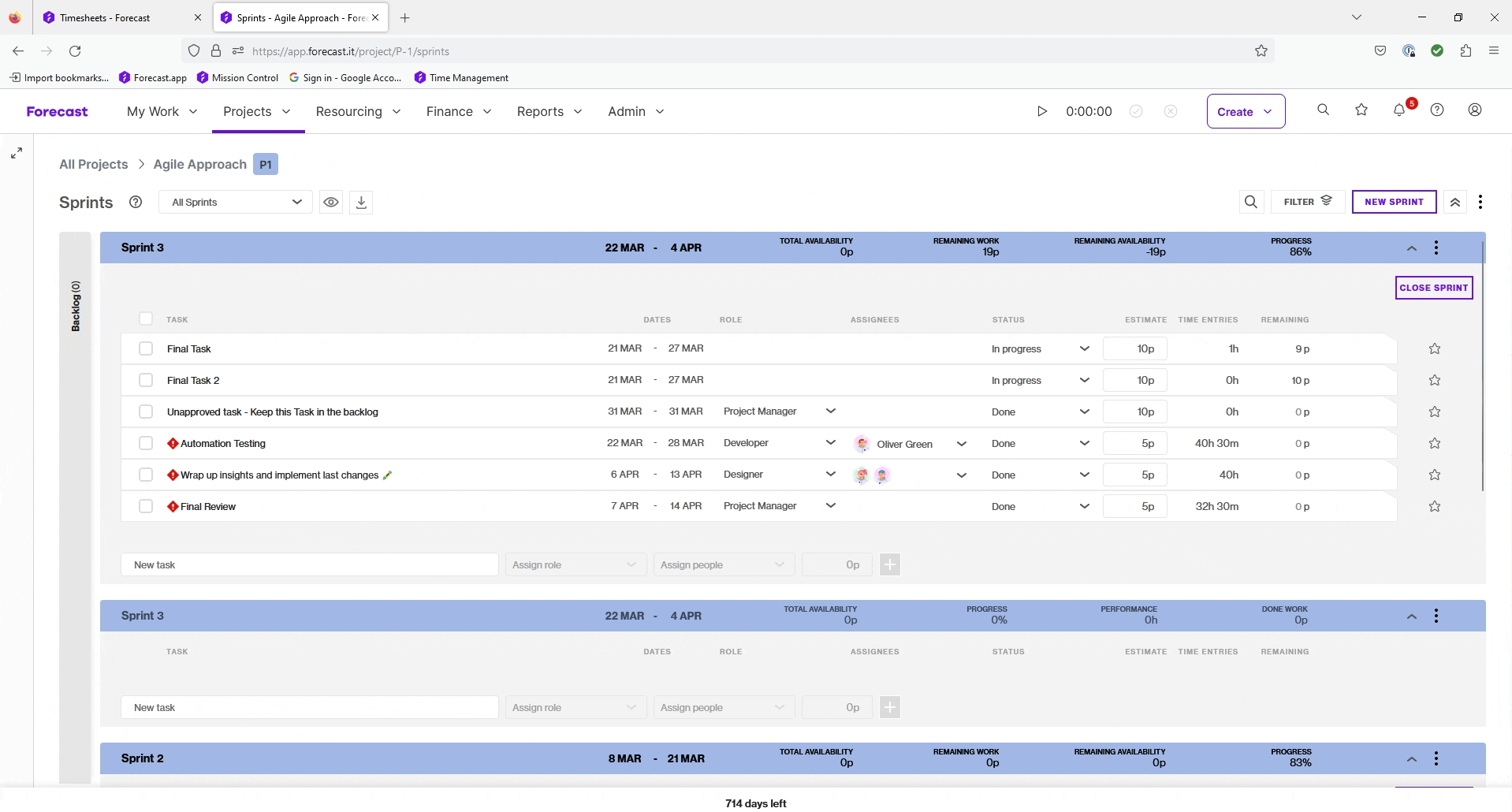 Selecting Update the Performance button opens a new pop-up modal that will display the average amount of time that your team has spent so far on the past sprints. This amount of time changes as more sprints are added and hours are registered in new tasks. This helps assess your team performance and automatically learns based on your work the set of standard of hours per story point, based on your work.
To update Story Point performance
Click on Projects from the top bar.
Select All Projects from the dropdown.
Select your project.
In the left side panel, select Sprints.
Click on Update Performance within a Sprint.
In the pop-up modal Forecast offers different options:



Update Story Point Performance:

This option allows you to view the estimates, the time registrations and the performance of your past sprints. The new performance is calculated by dividing the

sum of points that were estimated

by the

sum of hours that were registered

. You can see the calculated performance per sprint and the average of the past 5 sprints which you can then use to update the expected performance.

Set the new expected performance manually:

If you disagree with the expected performance the system comes up with or you prefer it to be as it was simply choose this and set it to whatever you believe is best.

Current performance value:

Whether you choose to update the expected performance based on Forecasts calculations or to stay with your own you will see the current and new performance value, if you agree with them simply click Update and you are done.

Click Update to save the changes.