Accurately and efficiently managing resource demand and utilization is key to project success. By using Forecast's Capacity Planning, you can map out future resource allocation needs based on upcoming demand. Users with the resource management setting "Assign people to projects" have the ability to monitor their resource utilization, placeholders and capacity overview from directly within Schedule People.
While placeholders are created within a specific project's Timeline, Placeholders in Schedule People provides a centralized location for resource managers to view all existing placeholders by project, analyze current and upcoming resource demand and staff future projects accurately and efficiently.
This article covers:
Viewing and managing project allocations (Schedule People)
The Schedule People heatmap displays each team member's utilization and remaining availability based on the individual's working hours and can be viewed by quarter, month, week or day. The number of available hours will be shown for each team member based on the time period selected for the view and the working hours for the individual. Working hours are defined in the individual user's profile and can vary between team members.
The heatmap will be shaded in green to indicate a team member is under-allocated, has potential availability and will display the number of remaining or available hours left for the set time period.
The heatmap will be shaded in red to indicate a team member is over-allocated which should prompt review of their assigned allocations. The value listed will display the amount of the overallocation, in hours, for the team member.
Allocations can be created in a project's Timeline or in Schedule People. To learn about creating and editing allocations, see Creating and Managing Allocations.
When creating project allocations, there may be times where the demand is tentative and may not yet be confirmed. Using soft allocations allows you to allocate project time to a resource and then once the demand is confirmed, you can update the allocation from soft to hard to indicate the actual project allocation and account for the work to be completed by the resource.
Soft allocations are depicted by a lightly shaded bubble with a dark border.
Hard allocations are depicted by a solid colored bubble with no border.
Learn more about soft and hard allocation types in Using soft and hard project allocations (Pro/Plus).
Exclude allocations allows you to control the heatmap and its display of soft and/or hard allocations. This can be very useful when looking at overall resource allocations and utilization or when you want to see only one type of allocations.
View resource allocation and utilization by toggling 'Use win probability' to analyze resource demand based on the probability of winning projects. Use win probability will allow you to view allocations by comparing projects with 100% probability of being won versus those that may only have a 50% chance of being won.
Depending on your working hours, you can opt to show or hide weekends in the heatmap. Toggle weekend visibility on or off using the 'Eye' icon.
Further customize your individual view of the heatmap by using any or all of the various options in the 'Eye' icon. Using the visibility options in the 'Eye' icon allows you to set the heatmap to display in accordance with how you need or want to view your resources. Select one, none, all or a combination of the display options here.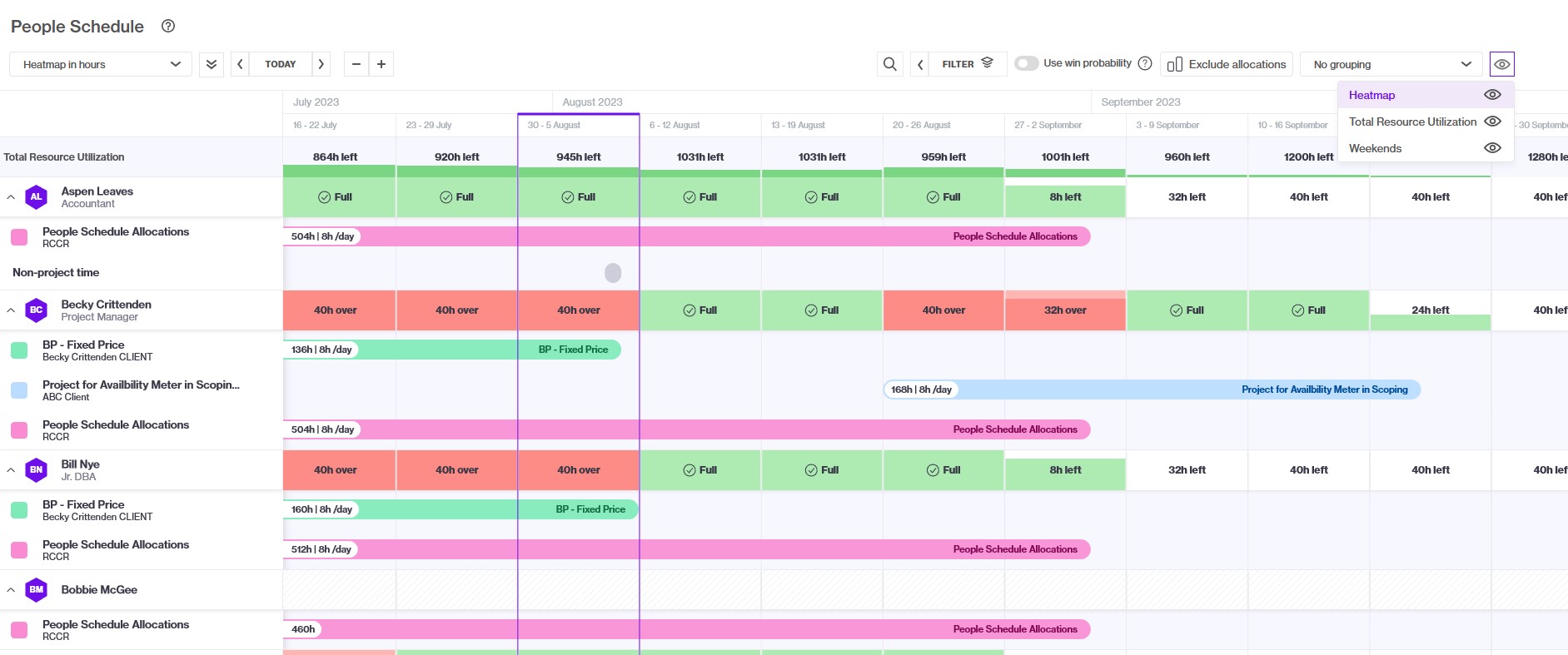 Viewing and managing placeholders (Demand)
Placeholders represent demand for a resource and are created and managed within an individual project's Timeline. To learn more about creating and staffing placeholders, see Creating and managing placeholders (Plus only).
Use Demand to easily see your upcoming project demand. Placeholder allocations appear as a lightly shaded with a dotted line border. Review daily, weekly or monthly or as needed to identify key resources that may be required to staff upcoming work.
Toggle on 'Use win probability' to analyze demand on future projects based on the likelihood they will be won. By default, Demand is grouped by role, though you can switch to group by project to more clearly see all placeholders within a specific project. Weekends can also be removed from the heatmap, a feature that may be a useful option depending on your company working hours, resource working hours, overall project demand and timeline.
Understanding and using Capacity Overview
Capacity Overview provides the ability to analyze the current capacity using the heat map to see a more realistic estimation of your resource needs by accounting for your pipeline's win probability and your available versus needed resources.
By using Capacity Overview you will clearly see how many resources you have available and how many placeholder resources are needed giving you essential insights over your entire resource capacity and your project demand. The view is grouped by roles and can be filtered to drill down to the relevant information.
Use the graph at the top to analyze total resource availability, any roles that may be overallocated, any existing placeholders as well as soft and hard allocations. Hover over the columns in the graph to view a summary of the data.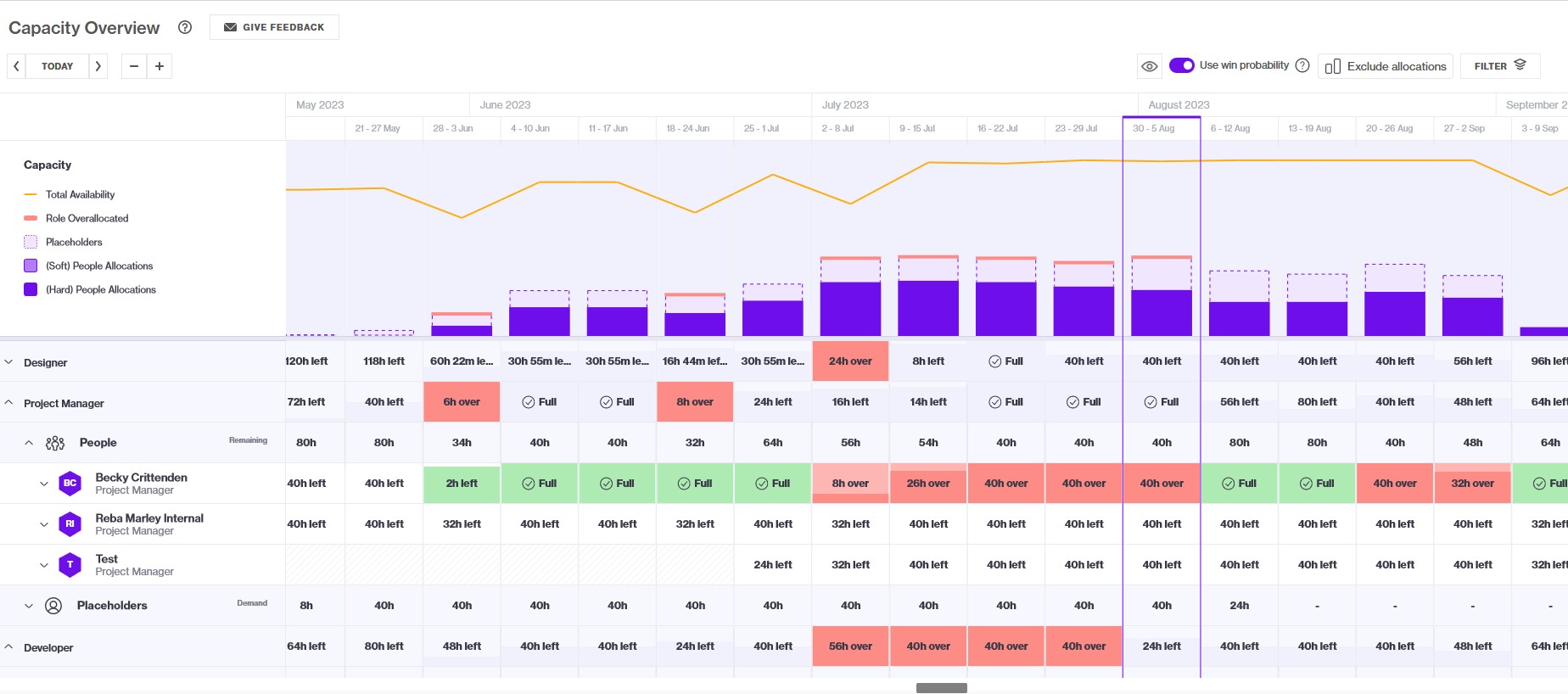 As with People Schedule and Demand, Capacity Overview offers the option to toggle 'Use win probability' allowing you to review resourcing based on whether or not the project will be won. You can also select whether or not to view weekends here depending on your project and/or overall working hours.
Filtering and Exclude allocations provides the ability to further customize your view the heatmap. Choose to exclude soft or hard allocations, filter for specific roles, skills, departments, people, teams, projects and view a smaller dataset when evaluating your resource capacity and upcoming demand.