The integration enables users to turn BambooHR approved time-off requests into the resource heatmap, so they can gain better visibility and more accurately plan their available resources. With the approved time-off sync from BambooHR, users now have a single point of truth for approved time-off requests without needing to update separate systems.
Related article:
This article covers:
Importing users into Forecast
Importing users over to Forecast from BambooHRIf a BambooHr user is already present, this step can be skipped to avoid creating duplicates.
To import users into Forecast from BambooHR
Go to the Admin panel.
Navigate to the Resource tab and click People.
Click the Import BambooHR users button in the top-right.
In the window is a list of all the people that have not been imported or linked yet.
Select the ones to be created in Forecast.
Click the Create button.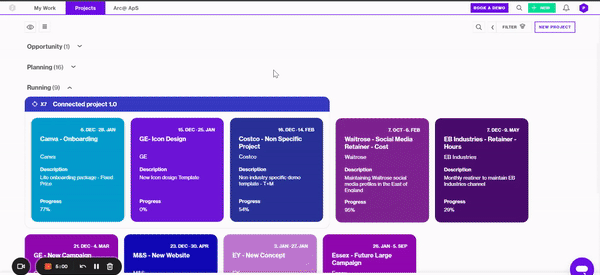 Linking users between Forecast and BambooHR
Linking users is crucial to establish a connection between the two platforms. By linking them, users are able to pull the BambooHR-approved time off requests over to Forecast and have them appear on the heatmap.
To link Forecast users with their Bamboo profiles
Select a user to be linked.
Click on their name.
Go to their profile page.
On their profile page, scroll to the BambooHR section.
In the dropdown, click on an unlinked BambooHR individual to link the user to it.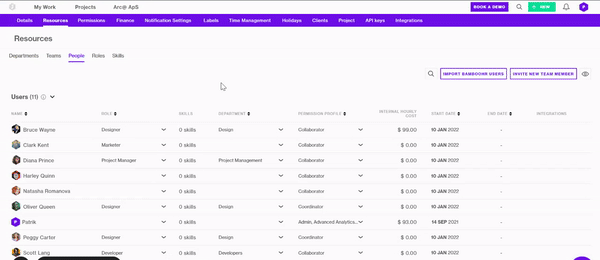 Note that the link does not update any data in either BambooHR or in Forecast.
Importing time off types from BambooHR
Importing time off types over to Forecast allows users to align the time-off categories between the two platform, which makes linking the individual categories more streamlined.
To import time off types
Go to the Admin panel.
Navigate to the Time management tab.
Scroll down to Time Off.
Click Import BambooHR time off types.
In the pop up window select the time-off types to be synchronized with Forecast.
Click Create.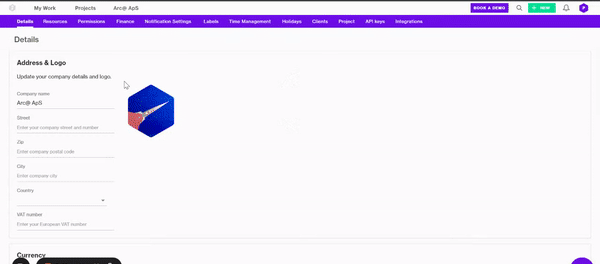 Linking time off types
Linking time-off types from BambooHR with Forecast is necessary, as it is required for the BambooHR approved time-off requests to properly appear in Forecast.
To link time off types
Go to the Admin panel.
Navigate to the Time Management tab.
Scroll down to Time Off.
Select the time-off type in the dropdown next to the corresponding time off type to link them.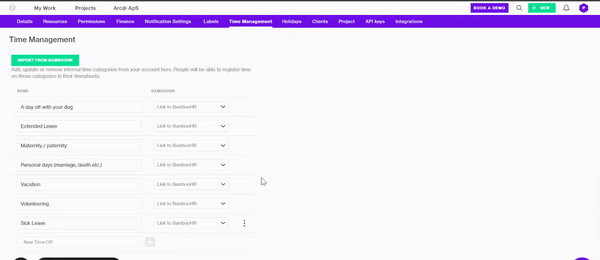 Synchronizing time off requests between systems
Every hour, the integration pulls over all approved time-off requests from BambooHR into Forecast as time-off allocations (along with corresponding time registrations). If a time-off request is no longer approved, it is removed from Forecast again. If the time-off type is unlinked from Forecast (or is deleted in BambooHR), the related allocations are deleted. If a person is unlinked from BambooHR, the allocations are not removed.
Note: Only time-off requests created after the integration is enabled are synced over to Forecast. This is to avoid duplicate allocations and time registrations.
It is assumed that the user's company will handle all time off through BambooHR if the integration is enabled, so they are not able to create allocations to idle time in Forecast after enabling it. In addition, the allocations synchronized from BambooHR cannot be modified from Forecast, while the allocations are still linked.
Using Time approval and Time Locking
If either of them are in use, the allocations created by the BambooHR integration in the past, will not have attached time registrations created. The reason behind this is that BambooHR does not support these features.