With the Trello for Forecast integration, you can power up your project management with Forecast's reporting, financials, and resource planning, by importing all the existing Trello boards (together with users, comments, deadlines, and labels) into Forecast, in just one click.
Once imported into Forecast, all Trello boards are shown in the planning stage for the project owners to plan and manage them, allocate people, and start reporting on them.
Note: The integration works only one way, from Trello to Forecast, when the initial migration happens. Any changes made to the boards in either platform after the migration will not be reflected in the other.
This article includes:
Migrating boards and users from Trello to Forecast
The migration of data from Trello is twofold. First, any boards that exist in the synced Trello account will come over to Forecast as standalone projects. Secondly, any team members that have been invited to the Trello account will be brought over as virtual users in the Forecast environment.
Note: The boards that will migrate to Forecast will be the boards that the user executing the migration has access to, in Trello, and are still Open. If the user executing the migration does not have access to any boards or if those boards are closed in Trello, they will not come over to Forecast.
To migrate both boards and users from Trello
Click Admin in the top bar.
Select Integrations from the dropdown.
Find the Trello option and click on it.
From the Trello page click on Migrate.
Login and authorize the connection.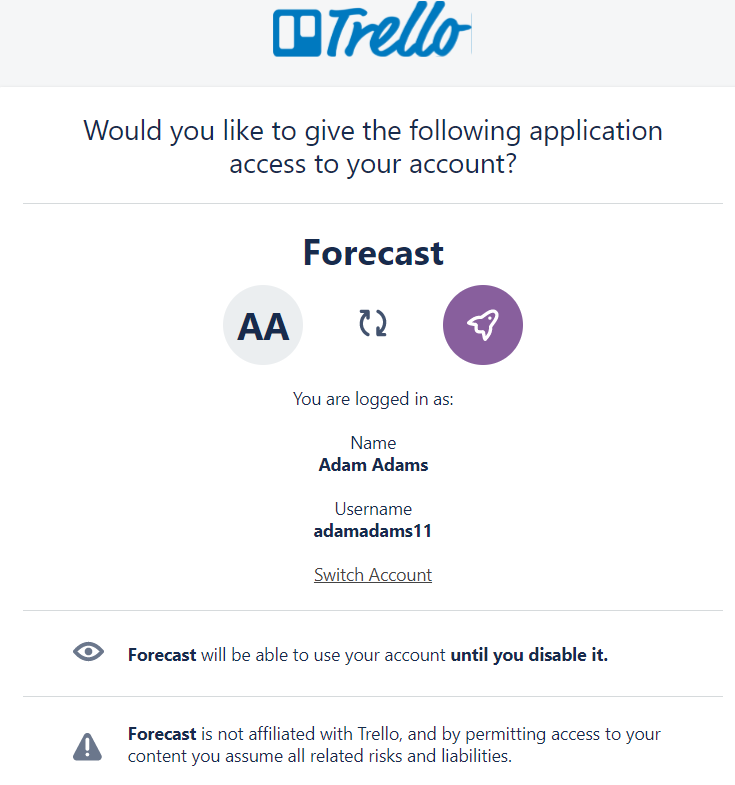 Migration of Trello boards and users will begin and should appear in Forecast within a few minutes.
Activate Users Imported from Trello
As mentioned above, any team member that has a profile in the Trello environment that gets migrated to Forecast will appear as a virtual user in Forecast. If an admin wishes to then invite these profiles to Forecast they will have to follow the steps below.
To invite the virtual users to Forecast
Click Admin in the to bar.
Select Resources from the dropdown.
Click People.
Find the virtual users that were migrated from Trello.
Click on their profile by clicking on their name.
Enter their email address in Team member's email
Click Invite Team Member
Data mapping
The integration imports data by mapping it to the corresponding Forecast entities as indicated in the map below: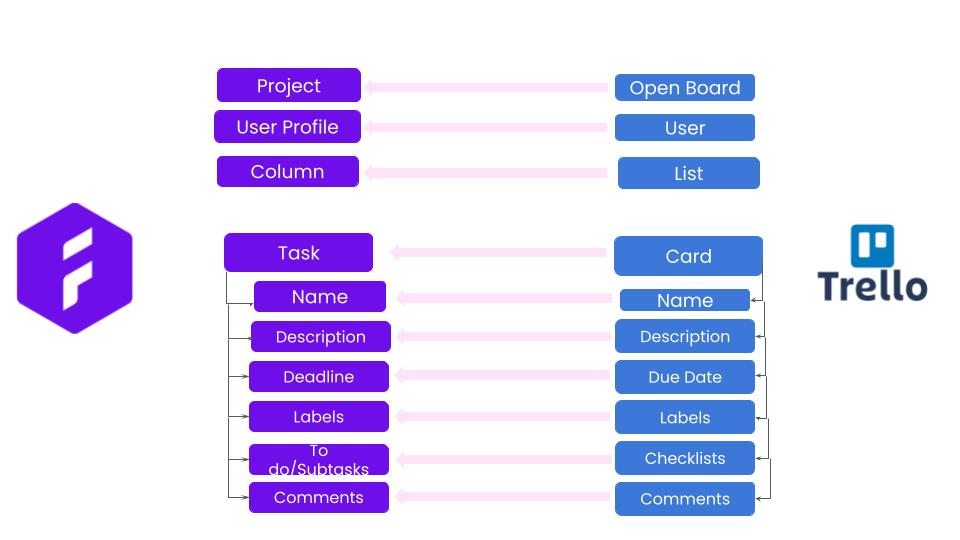 As mentioned earlier in this article, the integration only sends data one way and one time, from Trello to Forecast. Any changes made in Forecast are not reflected in Trello and vice versa.