Forecast allows organizations to select exactly the setup settings that best suit their needs. To that end, upon first accessing a Forecast environment on your trial run, and afterward from the Admin settings, an Admin user will be able to customize and choose which core functions they wish their Forecast account to include.
This article includes:
Onboarding your business to Forecast
Upon gaining access to the Forecast environment for the first time, a set of options will appear and the user will be prompted to choose between two distinct ways of setting up their account. The main choice that lies before you has to do with how your organization will use Forecast as a platform.
Do you wish to use Forecast as an internal tool and thus not show revenue or have client profiles and export invoices? Or do you wish to use Forecast externally so that you can work on projects with clients and require revenue to be tracked and then invoiced?
Forecast's flexibility ensures that you can change your work environment effortlessly and without impacting your previous work.
The choices that the user makes are not permanent and can be changed later from the Admin panel. Below, the article goes into detail about each of these options and how they in turn impact your organization's account.
Tracking revenue
The first, and potentially most important, option that administrators get is the ability to enable or disable revenue for their Forecast environment.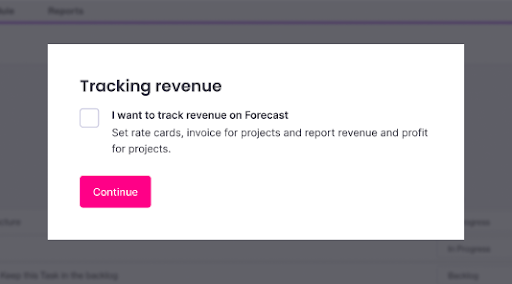 Enabling revenue
Enabling revenue means that it is required to track both the revenue and profit that is generated from the projects and thus you also need to report on it and potentially export it as invoices.
Disabling revenue
If the administrator chooses to not enable revenue in their account, the only financial information users will be able to view on the project level and report on will be 'cost'. Cost is derived from the resource's internal hourly cost. With that said, all features and terms related to revenue, profit, billing, and invoicing are hidden from the interface.
Additionally, if revenue is disabled, then the administrator can also disable the use of timesheets and clients, whereas if revenue is enabled then timesheets and clients are enabled by default, and cannot be disabled.
Note
:
If there are
revenue-based projects
(Fixed Price, T&M, or retainers) and revenue is disabled, those projects will appear as though they were non-billable, but the revenue-based settings such as the fixed price value, revenue recognition, or period settings will be preserved. If revenue is enabled later, users will be able to see their original revenue information.
Timesheets
The second option that will appear will be regarding timesheets and whether you would like to enable them or not.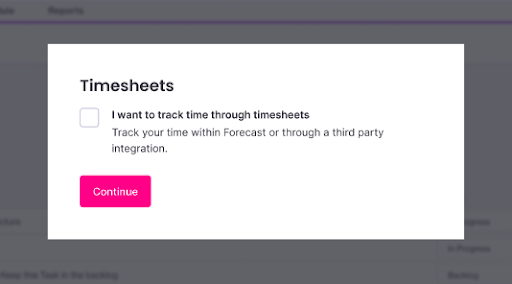 Enabling timesheets
If you have already enabled revenue then by default timesheets will also be enabled as they are a critical component of tracking revenue.
Having timesheets enabled means that resources will be able to register time on tasks and projects from multiple areas in the platform and all of that data will be shown in their personal timesheet, the company timesheet, and also the reports. As mentioned earlier, time registrations also drive revenue in Forecast, as it is calculated based on the number of hours registered X the rate of role.
Disabling timesheets
If the user chooses to disable timesheets then that means that:
All features and terms related to time tracking are hidden and disabled from the UI.

The user loses access to the timer feature, the timesheets page (both personal and company), and the ability to register time on any task or project in the account.

Progress is entered manually at the task, phase, or project level since it cannot be based on time entries. Instead of the standard time registration button within the task modal, the user will be able to select and set the progress of a task.
Time-entry-based calculations such as cost and utilization are based on project/task allocations rather than timesheets.


Specifically for the two different resource management settings (Project Allocation, Task Assignment) the calculations will look like this:


Note
: If there are
existing time registrations
and the Timesheets are disabled later on, the timesheet-based features and pages will disappear from the frontend but the data will be preserved in the backend. If Timesheets are later enabled again, those pre-existing time entries will be visible once more.
Clients
The third and final option that will appear for administrators is to enable client profiles.
Enabling client profiles
Like with timesheets, if revenue was already enabled then by default client profiles will also be enabled. This is because revenue probably comes from a client that the organization is currently working with/for.
Enabling clients also means that you will be able to create and export invoices for your clients using the available integrations.
Disabling client profiles
All features and terms related to clients are hidden from the UI. This means that the Clients page in the admin panel is not accessible, projects cannot have clients associated with them, you are unable to invite your clients as guest users into the platform, and cannot create and export invoices.
Amending setup settings
As mentioned earlier, these settings are not permanent and can be enabled and disabled by administrators at any time.
To access the admin panel and the setup tab
Click on Admin on the top bar.
Click on Setup from the dropdown.
In this tab, you will be able to view all of the features discussed earlier in the article.
Additionally, from this tab, it is possible to enable and disable all of the features that the article went through.
To enable/disable the setup settings
Click on the box to the left side of each feature to enable it.
Click again to disable it.
Note: If revenue is enabled then by default the other two options are also enabled and cannot be disabled.