Advanced Analytics gives you the ability to stay up to date with your Key Perfomance Indicators (KPIs) by setting up Pulse Alerts to track predefined events, such as when your target utilization or your project minutes registered reach a particular threshold.
Additionally, Advanced Analytics can also track and notify you of any anomalies in your data, thanks to its sophisticated machine learning algorithm.

This article covers:
Creating a Pulse Alert
Your alerts are triggered by conditions defined by you based on your existing widgets. For example, if you have a widget that represents your overall projects profit (e.g Gross Profit margin), you can configure an alert that notifies you when the profit value reaches or falls below your profitability target, or any particular threshold.
You can create alerts for indicators and chart widgets to monitor single values. You simple have to right-click on the element that you wish to monitor and select add to pulse.
Pulse alerts can be created with widgets from different dashboards, so that you can get the broader picture in one place.
Supported widgets
You can only configure alerts for widgets, if their visualisation is set to any of the following type:
Indicator widgets

Area Charts Widgets

Bar Chart Widgets

Line Chart

Column Chart
To create a data alert
Within Advanced Analytics, identify the widget you want to create an alert from

If you are choosing an indicator widget, select Add to Pulse from the widget's menu.
For any other types of widgets, right-click on any value in the chart and select Add to Pulse.

In the 'Add to Pulse' window configure the following:

Name: enter a name to represent your alert.
Alert condition:

"Threshold": notifies you if the value is greater or less than a set value.
Note: If you are using percentages, add them as decimals.

"Automatic": notifies you if there is an anomaly in your data based on machine learning algorithms. The algorithm learns from your data by taking into account the latest values and identifies anomalies for you.

"Always" notifies you whenever there is a change in that value.

Click Add to create the alert.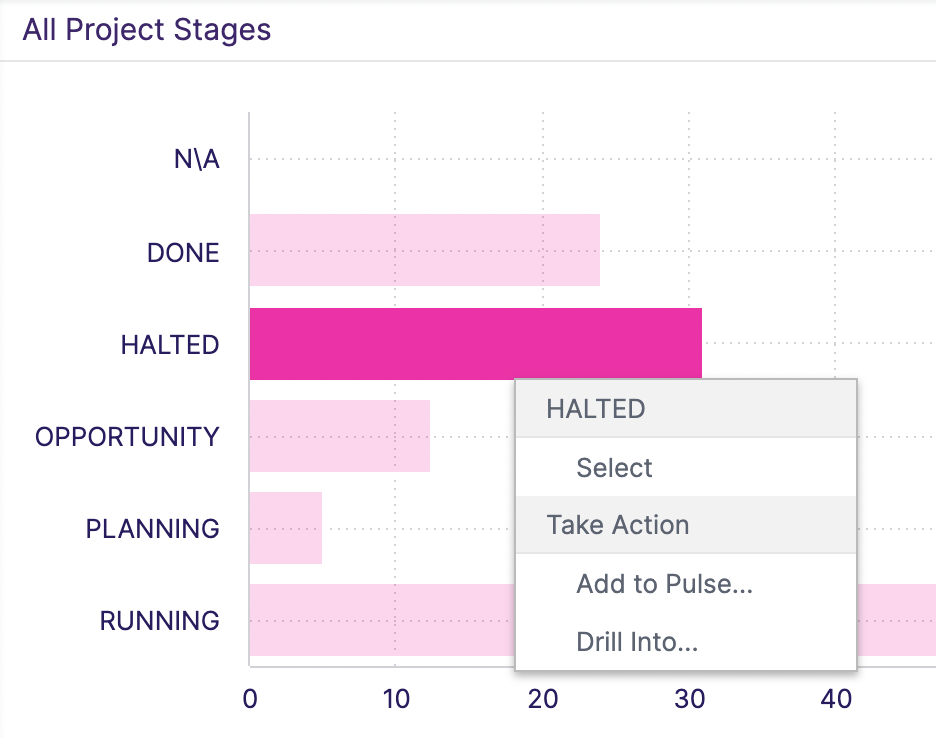 Managing your Pulse Alerts
Once you have started configuring your first Pulse Alerts, you can manage them all in your Pulse section within your Advanced Analytics page.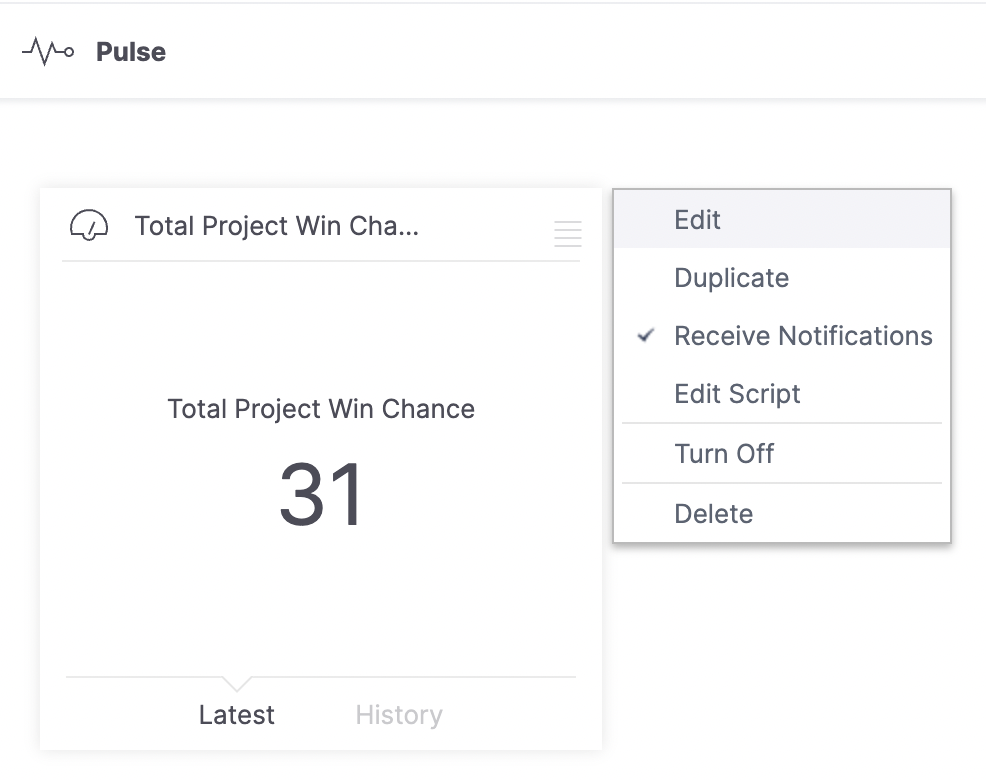 To view your pulse alerts
Click on your Company tab on the header of your account, next to Projects tab
Select Advanced Analytics tab
Click on Go to Analytics button on the right sidebar, to open your Analytics account.
Click on Pulse tab on the top of the page.
Here you will have an overview of the existing Pulse Alerts displayed as tiles.
To manage your pulse alerts
Within the Pulse tab, click on the burger icon.
Click on Edit, within the dropdown.
A pop-up will appear with three tabs:


KPI settings: here you can manage the previously configured thresholds
Groups and users: in this section you can add additional people to the email notifications.
Notification options: input your notification message and manage your notification channels.